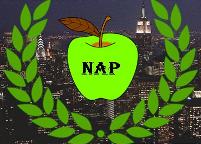 New Apple is venturing into the film and now TV industry with concepts of programming designed to reach broad demographics , yet with extremely low overhead that garner huge returns on investment.
We plan to present variety shows in 2014. We are currently in process of interviewing locations in the NYC area to find the right ambiance and energy to match the variety of talent we spotlight in our documentary.

Our project "SANDY JORDAN'S WORLD OF JAZZ AND CABARET", is a documentary about the NY jazz and cabaret world.. This film was inspired by Sandy Jordan's wonderful audiences at the Algonquin Hotel. It was their comments and questions and their appreciation of the Sandy Jordan and Friends Shows that lead to the making of this film. We had our preview premier in Nov 2012 at the Tribeca Cinemas. We are currently trying for tv. Our hope is that the film will reach a huge audience and will encourage more and more people to venrture out to see live entertainment. I am sure the great talents we feature in this film will inspire more and more people to visit the jazz clubs and cabarets and various restaurants that offer live entertainment in the great city of NY.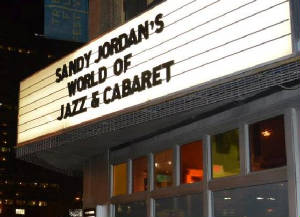 SANDY JORDAN'S WORLD OF JAZZ AND CABARET DOCUMENTARY
RED CARPET OPENING FILM AND PARTY 8 PM SUNDAY NOV 18, 2012 AT THE TRIBECA CINEMAS NYC
)
"THE PSYCHICS"
Jordana-Sandy & Diana with neighbor Tom
COMING TO A TV SET NEAR YOU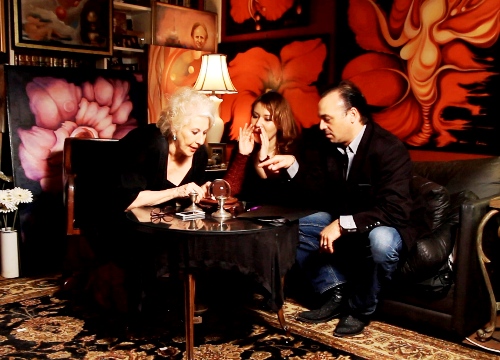 EVERY THURSDAY NIGHT AT LA RIVISTA
COME SEE US THURSDAYS CELEB SINGERS SONG NIGHT AT LA RIVISTA 8 - MIDNIGHT (46TH 8TH & 9TH AVES)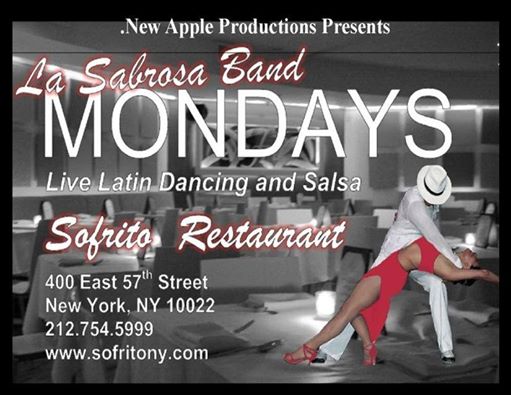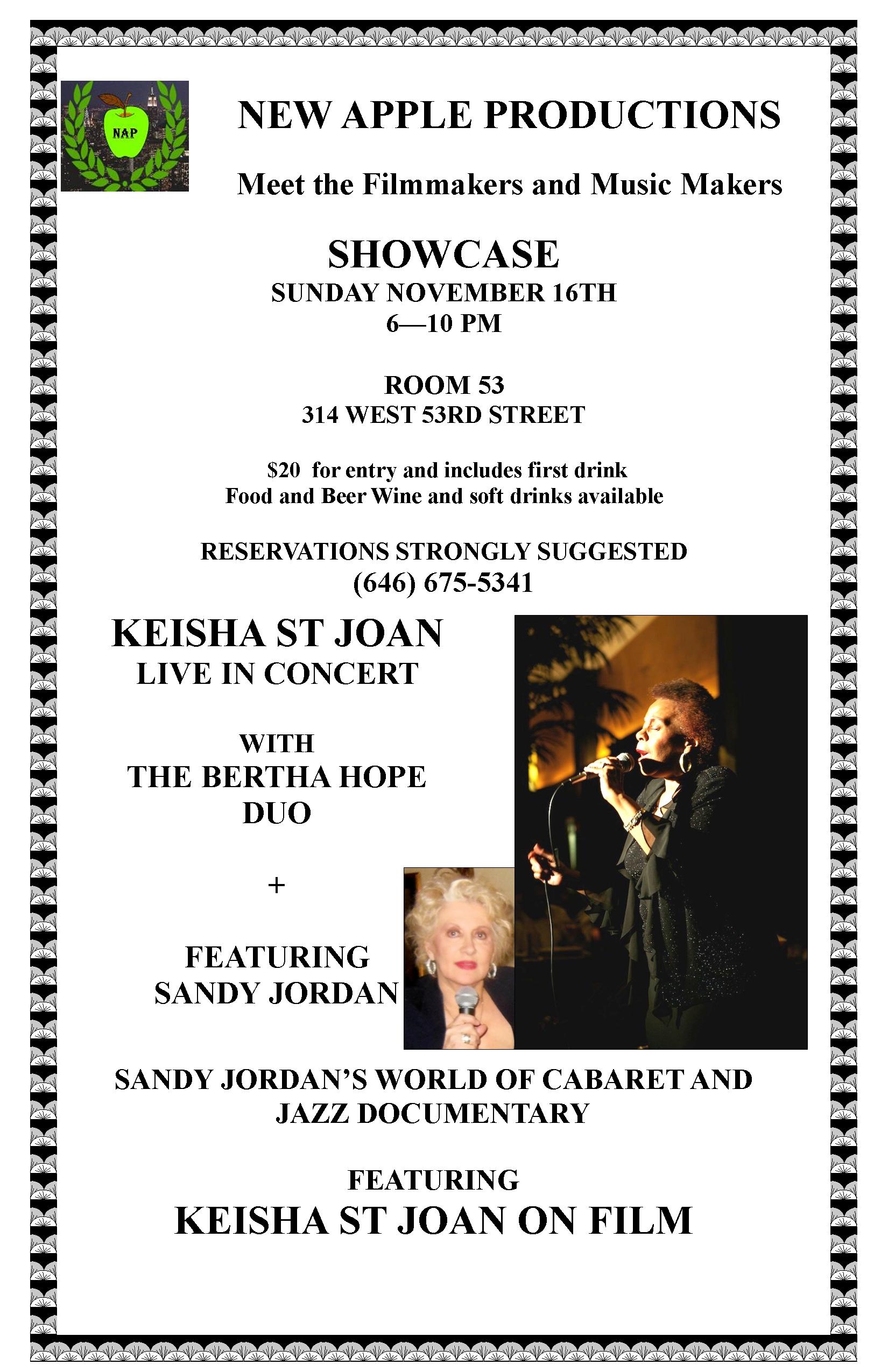 SANDY JORDAN AND FRIENDS SHOWS PREENTED IN TOP CLUBS AND HOTELS IN AND AROUND THE TRI STATE AREA, EUROPE, AND IN VEGAS AND RECENTLY AT NY'S FAMOUS ALGONQUIN HOTEL
2013 RED CARPET OSCAR NIGHT
***********************
MONTHLY NEW AGE FESTIVALS
INVESTIGATING THE PARANORMAL AND ALL ASPECTS OF MENTAL PHYSICAL EMOTIONAL AND SPIRITUAL HEALTH
ENTERTAINMENT . MEDIUMS . PSYCHICS . LECTURERS . DEMONSTATIONS . PRODUCTS . FOOD . DRINKS
ENVISION AND LEARN TO CREATE THE LIVE YOU LOVE !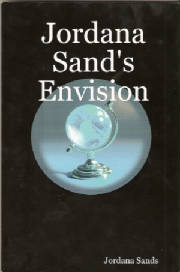 Follow Us
New Apple Music and Art Productions packages shows to present the best in the visual and the performing arts.

We are consultants in the field of entertainment. We arrange visual and performing arts shows for restaurants, hotels, organizations and clubs. Our Red Carpet Events division works with Event Companies and Corporations in presenting the best events and product launches in the world. We are experts in the ways to use the arts to enhance a business as well as in raising funds for charitible organizations.
OCT 4 2012 OVER 2 MILLIONS HITS ON IMBd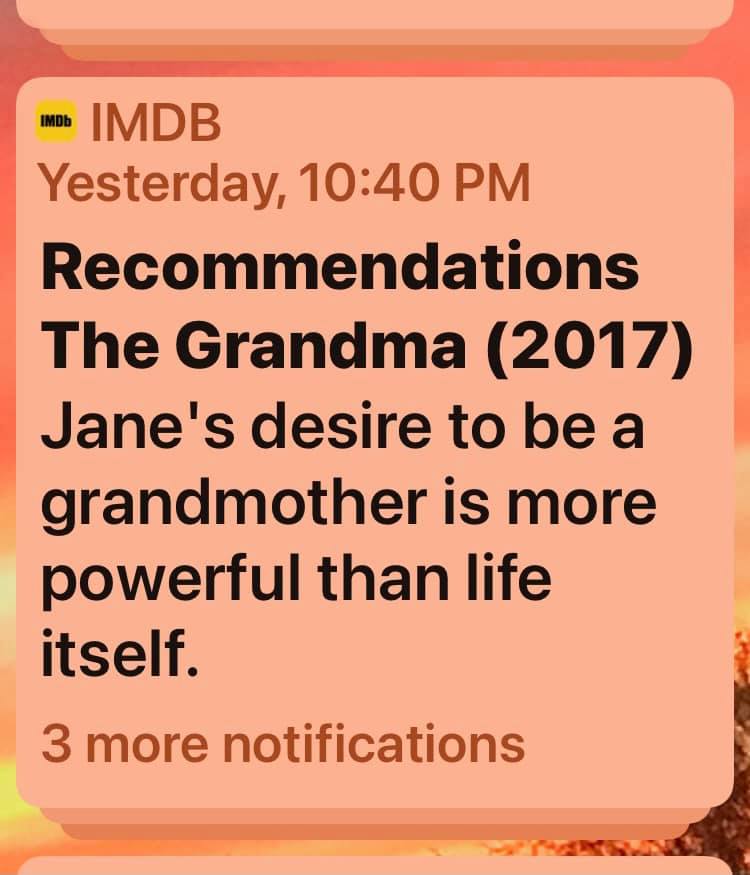 SES by business degree online promotion team.