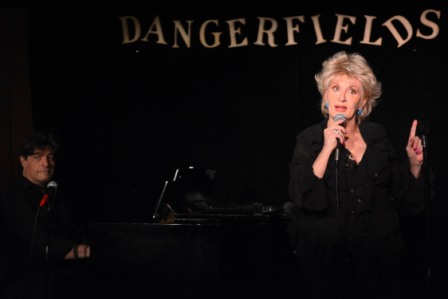 SANDY JORDAN AND FRIENDS SHOW
I originally started as a dancer and an actress, as Sandra Jordan. After numbers of small parts in films that went nowhere, I incarnated into Sandy Jordan singer...sang throughout NYC even Vegas, Europe, produced variety shows...a long resume a mile long. Artist Jordan many art shows...Jordana Sands (pen name) lecturer writer psychic relationship expert...many many interviews TV radio 5 books written check out Amazon. Now Sandy Jordan singer actress writer producer partner in New Apple Productions. Currently have pilots for a spoof "The Psychic Diva", a docu-comedy "The Soulmate Connection" and a scripted TV show, "Lili's Place". The rest of my projects are listed on IMDb. "The Grandma" a sexy comedy sci-fi?????? well, I don't play the sexy part...I am the grandma!
Check out The Big Apple Film Festival in NYC the first week of November 2017... do not miss our 15-minute film/pilot.THE GRANDMA...it is a dilly!!! If you want to say hi ... I am singing every Tuesday and Friday at LaRivista 313 W 46th St, NYC 8-midnight. Been there over 5 years. Looking for outlets for our pilots and currently working on Lili's Place...we have pilot which we plan to add to, the first episode script and the starring parts and support actors are cast and it is an impressive list. We plan to film in MYC as Lili's Place is a fictional club in NYC where the elite meet and greet to mingle with the outrageous cast of characters...Needless to say, I wrote it, am developing it and I am Lili....welcome to my world.....