Posh Pets Rescue is dedicated to the rescue, rehabilitation, and placement of homeless animals, many of whom are saved by us at the very last moment from euthanasia at the city shelters. We provide a safe haven to all those who find their way to us through whatever circumstances, whether abandoned, injured, abused or neglected. No matter the breed, health, or age, we believe all should live secure, healthy lives, and we work tirelessly in our attempts to find the right homes with people who will love them for their lifetime.
Posh Pets does not have a shelter, but relies solely on a network of foster homes. We receive no public funding, and count on the generosity of fellow animal lovers to help defray our costs, which include vet bills and other medical expenses for over 500 animals each year who come to us sick or in need of special care, as well as food, supplies, and other items needed for the safety and comfort of our rescues.
Can't Adopt??? Try Fostering…..We are always looking for loving homes that will open their doors to foster a pet while permanent homes are being sought. Providing a safe and nurturing foster parent for our rescues enables us to save many more animals, and is a vital part of our success in rehabilitating their wounded spirits. If you would like to be part of our rescue efforts by short term fostering, please contact us through our website,
www.poshpetsrescue.org
or by calling Linda at 917 319-4304 or Rhoda at 917 232-7736.
============================================================================================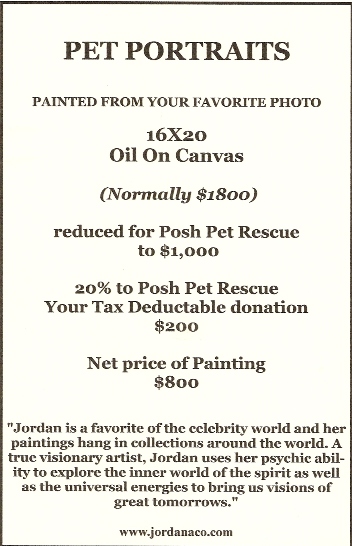 ----------------------------------------