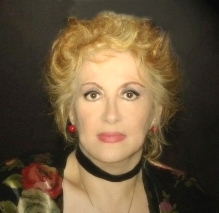 SANDYJORDAN AND FRIENDS SUNDAY SHOWS - ALGONQUIN HOTEL JULY 2010 OPENS TILL 2012 MUSIC AND OAK ROOM CLOSE
Sandy packaged her first large show at the age of 20 and promoted her Sandy Jordan and Friends Shows on TV, Radio and wherever they would let her talk. She was interviewed many times about the celebrities that performed in her shows. Sandy opened for Rodney Dangerfield at his club and at numerous club dates in the tri state area. Rodney was a special guest in her celebrity nights for years. Sandy presented variety packages where she sang, told fun stories and introduced "Her Friends". Her friends were a singer and a comic and on occasion a novelty act. Sandy had a special rapport with comics and was half of the comedy team, Vincent and Jordan. For a season the gals performed their act in the Catskills.
Written about their mothers, their act was a huge hit with the many mothers in the hotel audiences. Sandy opened numerous times for Rodney Dangerfield and worked with Maureen Murphy, Hilda Vincent, Jimmie Walker, Jackie Gayle, Fred Travalena, Soupy Sales, Daphne Davis, David Frye, Phil Foster, Jackie Cannon, Mel Brooks, Marvin Braverman, David Brenner, Richard Pryor, Bobby Alto, Steve Landesberg, Gabe Kaplan, Liz Torres, Marty Nadler, Alan King, Billy Baxter, and many many others. She was honored by Lionel Hampton who came to her shows and even brought her on tv with him He brought her on as his model on the cover of his album, Portrait of a Woman" . Singers ..........many worked with her and many came to her performances and some were special guests in her shows... the late great Teddi King, Shelly Ackerman, Cecil Morgan, Baby Jane Dexter, Freddy Cole, Bette Midler, Buddy Mantia, Marilyn Maye, Odetta, Prentiss Minner, Maxine Brown, Anita O'Day, Rosemary Clooney, Monty Rock 3rd, Maria Manville, etc.
THE SANDY JORDAN AND FRIENDS SHOW IS PRESENTED EVERY SUNDAY IN THE ELEGANT EDWARDIAN OAK PANELED LOBBY OF THE ALGONQUIN HOTEL ON 44TH ST BETWEEN 5TH AND 6TH AVENUES IN THE HEART OF THE THEATER DISTRICT.
SANDY'S SUNDAY SHOWS FEATURE SOME OF NEW YORK'S TOP BROADWAY, CABARET, JAZZ AND CLASSICAL ENTERTAINERS. SANDY, A SINGER HERSELF LINES UP 15 OR MORE SINGER FRIENDS WHO PERFORM WITH THE LARRY LUGER TRIO ALONG WITH A NUMBER OF GUEST MUSICIANS.
SANDY, WHO IS AN ARTIST, WRITER AND ARDENT ADMIRER OF DOROTHY PARKER, THE ROUND TABLE, AND THE HISTORY OF THE GREAT HOTEL, REFERS TO HER GROUP OF SINGERS AS THE MUSICAL ROUND TABLE.
ON SUNDAYS, THE LOBBY FILLS WITH NEW YORKERS AND HOTEL GUESTS WHO ALL VIE FOR THE BEST SEATING POSSIBLE. CHAIRS ARE BROUGHT OUT TO ACCOMMODATE THE OVERFLOW. WAITERS SCURRY TO TAKE ORDERS AND THERE IS AN AIR OF EXPECTANCY AS ALL GET COMFORTABLE. THE SHOW SEEMS TO HAVE GENERATED DEVOTED FOLLOWERS. THE AUDIENCE STAYS ON AND ON AND AFTER 3 ½ HOURS OF MUSIC THE AUDIENCE IS STILL CLAMMERING FOR MORE…
AT EXACTLY 7 PM THE SHOW BEGINS WITH SANDY JORDAN, AND IN A HEARTBEAT THE AUDIENCE IS WHERE IT SHOULD BE……….IN THE PALM OF HER HAND. SANDY, BESIDES BEING AN ACCOMPLISHED SINGER IS A RELAXED AND WARM MC WITH A DEFINITE FLAIR FOR COMEDY.
THE SANDY JORDAN AND FRIENDS SHOW EVERY SUNDAY AT 7 PM AT THE ALGONQUIN HOTEL IS A MUST FOR THOSE VISITING OUR GREAT CITY.
"I am really grateful to you for the exposure and networking that's enabled through your wonderful show. Thanks to your show I just composed a brand new song for Judi Mark. I think you're both going to love it. It's all Judi... What an inspiring lady she is. I hope to attend your show with greater frequency and I always bring many friends who are loving it too. It's like one big happy talented family... You, David, Melanie, Judi and more. Long live the Queen (you) and her show at the legendary Algonquin." Eddie Zee (broadcaster and an entrepreneur in the field of music)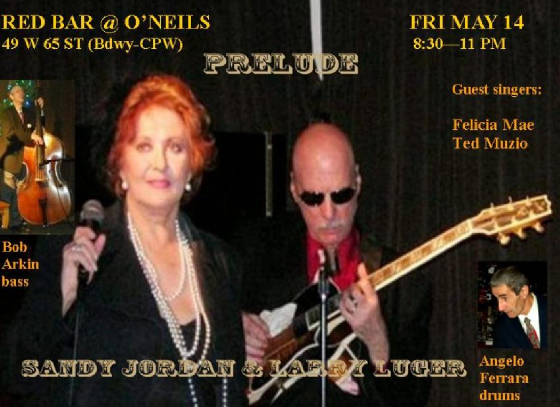 Sandy has been singing in NYC professionally since she was 17 and by the age of 20 she had her own shows and started SGJ Enterprises . Sandy ran the many very successful celebrity nights and open mics. Sandy put little music reviews together for organizations, corporations, charities, schools, hotels and private parties in the tri state area.

Sandy even brought a few of her shows to Vegas and the Catskill Mountain resorts in upstate NY. Sandy sang and was half of a comedy team, acted on stage and film.

Sandy booked her Sandy Jordan and Friends in two lounges In Vegas as well as in hotels in the Catskills and little supper clubs in NYC. Sandy opened for Martin Flynn a famous Irish singer in Carnegie Hall and also toured Europe with an American Songbook tour. Her favorite spot was the famous Ronnie Scott's in London.


5 years at Notaro




Sandy is very well known as a producer and packager of variety shows till today. Sandy began organizing in grade school and presenting music shows. She organized children in her small town and presented little musicals and poetry readings to delight of the neighborhood. She even had her own radio show on the local station.

Sandy was involved for many years in the charity world. She produced packaged visual and perfoming art shows that raised a lot of money for her favoirite charities. Sandy was on several of the commitees for the International Cancer Research Facility, Waldemar Foundation and worked with the movers and shakers in show business, politics and the International financial community. Sandy co-chaired fund raising events for Graham Home for Children, Hastings on Hudson, Easter Seal Luncheons at the Waldorf Astoria, and spent a number of fun years decorating the Grand Ballroom at the Waldorf for the International Debutant Ball --- Commitee woman for the Mayor's Gala and many more.

Sandy is currently organizing Sandy Jordan and Friends shows in New York City at Upstairs at San Martin as well as for fund raisers and in various clubs in the tri state area. We are presenting through our New Apple Productions, comedy nights, music from jazz to opera, song writer shows, reviews and improvs.

QUOTES

"It is such a joy to walk into an historic hotel like the Algonquin and hear beautiful timeless music. The ambiance is classic New York!"

Michael Hayden

San Pedro, Calif.

My partner and I were staying at the A a few months back for the first time. We live in CT and come down to the city 2-3 weekends a month for business. After our dinner we returned to the hotel intending to retire for the evening, but instead stayed down in the lobby to enjoy the music and have a a little bubbly.

To us, Sandy your venue in the lobby is an entertaining yet quirky bonus that most people, whether they live in Manhattan or visit, enjoy about the city.

Being in retail we are just recovering form the holiday season, but first chance we get we plan on returning to the Algonquin, especially for the evening fun.

R. Cindy Kovacs

Lawrence Lazaroff

"The evening we spent at the Algonquin we got to enjoy you so much, we intended to come in for one drink and because we couldn't get over the entertainment we ended up staying for that intended drink, a bottle of wine, dinner, dessert and an after dinner drink. The warmth and history of the Algonquin is marvelous... But it was the ambiance of you and your friends that made our minds up to stay. It created the full package.

All the best Sandy"
Jackie Roberts

"Sandy, every time we come to NYC we made sure that we attended your fabulous show and we have at least a 4 hour drive home to Boston-if we lived in the city we would probably attend every week. Looking forward to seeing you on our next trip."

Nancy