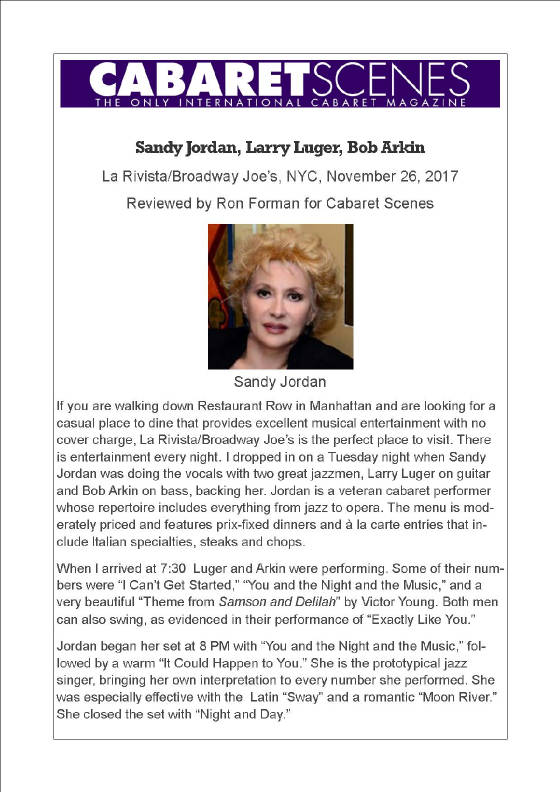 As easy on the eyes as she is on the ears.
A beautiful girl with a beautiful voice.
Sandy Jordan really knows her way around a lyric.
Singer Sandy Jordan goes from jazz to opera with the greatest of ease.
A fabulous entertainer with a voice to match.
She puts her soul into her singing.
One of NY's favorites - Sandy Jordan has a large following of devoted fans."
Bob Harrington NY Post
"Newcomer luscious looking Sandy Jordan is a triple threat - singer-actress-comedienne. She is star material.
Dan Lewis The Record
"Sandy Jordan gives one of the hottest performances in town. Don't miss this hot new talent"
Cindy Adams The Post
"Sandy Jordan is easy to listen to. This gal knows her way around a song. Always entertaining."
Gary Stevens Syndicated columnist for 62 newspapers
"Sandy Jordan is a talent to reckon with. This bright young star has a following among the cognoscenti. A knowledge of the lyric beyond her years."
Jose Variety
"Whether in a cabaret appearing as a cabaret singer or with her jazz trio, Sandy Jordan is always superb! She is a real experience. Beauty and wisdom rolled into one great performer."
Clive Davis NY Post
---
E-Mail Sandy
---
Live Review: Larry Luger at Notaro Ristorante (March 9, 2010)By Alex Henderson Some jazz instrumentalists are not very proficient when it comes to interacting with singers, but that has never been a problem for New York City-based guitarist Larry Luger. And the strong rapport he enjoys with vocalist Sandy Jordan was very much in evidence during their March 9, 2010 appearance at Notaro Ristorante, an Italian restaurant on Manhattan's East Side. For several years, Luger and Jordan have been performing together on Tuesday nights at Notaro—and Luger demonstrated that he is as comfortable in an instrumental setting as he is playing with a vocalist. Jordan has a strong cabaret/Broadway/traditional pop background, but she is also an avowed admirer of Ella Fitzgerald and is capable of getting into more jazz-oriented endeavors; Luger's swinging yet melodic guitar playing, in fact, seemed to bring out more of her jazz qualities on enjoyable performances of familiar gems ranging Jerome Kern's "Dearly Beloved" to The Beatles' "Yesterday" to Don Raye & Gene dePaul's "I Remember April." Jordan is by no means a jazz purist, but jazz has clearly had a positive effect on her. When Jordan wasn't singing, Luger excelled as a straight-ahead bop instrumentalist on well known standards such as Ralph Rainger's "I Wished on the Moon" and Jimmy McHugh & Dorothy Fields' "Exactly Like You." Another highlight of the evening was Luger's interpretation of "Boulevard of Broken Dreams," which he gave an appealing Latin-flavored treatment. Rounding out Luger's ongoing Tuesday-night trio at Notaro are acoustic bassist Bob Arkin and the 84-year-old drummer Angelo Ferrara, who has been playing jazz since the 1930s. Notaro is located at 635 2nd Avenue between 34th and 35th Streets.
Alex Henderson is a veteran journalist whose work has appeared in Billboard, Spin, Creem, The L.A. Weekly, JazzTimes, Jazziz, Cash Box, HITS, CD Review and many other well known publications. Since 1996, Henderson (http://
www.alexvhenderson.com
) has contributed several thousand reviews to The

Get Twitter Buttons


Sandy Jordan was one of the most popular and successful singers in the NYC area during the 70's, 80's & 90's and still beauatiful and singing better than ever. Truly a renaissance woman, she organized dozens of new face reviews and talent nights for hotels, restaurants, clubs organizations and charities. Jordan promoted, produced, was mistress of ceremonies and sang in all of these productions.

Thanks to her ability to organize, Sandy was instrumental in keeping variety talent alive and in the eyes of the public through the years when clubs were closing left and right.

Sandy's ability to straddle the worlds of jazz, Broadway, contemporary as well as opera coupled with her comedic ability enabled her to reach a broad audience, Her great sense of humor and her approach to her music made her a favorite with the young audiences. Her shows were sophisticated in a way that was very much New York which delighted audiences from around the country as well as New York's contemporary adults. Sandy, today is accomplished singer, entertainer story teller with the musical knowledge and wisdom to compare very favorably with the top singers of the 40's 50's and 60's.

Sandy is unusual in that she has a beautiful voice, yet sings with understanding of a lyric. She excels in the love ballads that appeal to women, and is sexy and womanly in a way that grabs the guys.

Sandy Jordan has performed throughout Europe, Vegas, the Catskill Hotels, the tri-state area. Jazz Clubs, TV, NYC Hotels, Private venues, events, Carnegie Hall, On and Off-Broadway, She performed her woman show for several years in the Cabaret circuit. Sandy has worked in so many places there are way too many to list. Many club dates and numerous long term bookings, 3 years at The Apartment Supper Club at age 19, and sang her way throughout the Catskills, and half of a comedy team, and also she produced her Sandy Jordan and Friends Shows in the Catskills, Vegas, various small venues, concerts, and 7 months at the Algonquin Hotel.Sandy has sung opera, Broadway music, pop, country and jazz. She is currently working in NYC ..home base Tuesday and Thursday nights at La Rivista/Broadway Joe among many other spots. Her documentary, "SANDY JORDAN'S WORLD OF JAZZ AND CABARET" , "THE PSYCHIC DIVA", "THE SOULMATE CONNECTION" are currently being edited. Also Sandy is one of the stars of a new short film entitiled, "GRANDMA JANE".

SANDY HAS BEEN SINGING WITH THE LARRY LUGER TRIO FOR OVER 3 YEARS EVERY TUESDAY NIGHT FROM 8 - MIDNIGHT AT NOTARO RESTAURANT IN NYC.
NOTARO SECOND AVE (34TH-35TH STS) RESV 212686-3400
NOTARO ON TUESDAY NIGHTS HAS BECOME A HANGOUT FOR NY'C SHOW BIZ CELEBS AND NUMEROUS SINGERS SHOW UP EACH WEEK AND SIT IN WITH SANDY AND THE TRIO. THE PRICE IS RIGHT. NO COVER AND EXCELENT ITALIAN FOOD AND EXCELLENT MUSIC.